Picture a heat pump in your mind's eye and typically you'll envisage a high-wall heat pump (where the indoor unit is mounted high up on your wall). They are certainly the most common option for New Zealand homes and small office spaces. But for certain environments, and in the right application, a floor console heat pump can make all the difference.
Case Study: Floor Console Heat Pump
Tania's two storey family home felt cold and damp in the entrance, stairs and bedrooms with condensation on the windows upstairs and down.
The condensation, along with the multi-storey configuration, led us toward a floor console heat pump as the ideal solution. We wanted to keep the heat on the ground floor as long as possible before travelling upstairs.
Our heat pump specialists detailed the available floor console options to the homeowners. They settled on the Daikin Floor Console 7.1kW. The deciding factor was that it could be installed discreetly under the stairs.
Our customer reported that the first morning following the heat pump's installation, there was no condensation on the windows and the heating system is effectively heating the whole house.
Choosing the right heat pump for the right situation takes more than making a selection from a catalogue. The team at New Zealand Heat Pumps are experts, not merely salespeople. We care about finding the right solution for your home.
Product Snapshot: Daikin Floor Console Heat Pump
Daikin's floor standing air conditioning units are compact and ideal for anyone wanting the convenience and access of positioning their unit closer to the floor. They come in a wide selection of capacities and can even be semi-recessed into the wall or in an unused fireplace.
Heating & Cooling
Available Capacities: 2.5kW, 3.5kW, 4.5kW, 5.0kW, 6.0kW, 7.1kW
R410A Refrigerant
Dual Discharge Vents
You can select to use either top, or top and bottom discharge vents to distribute air evenly through the room for better heating comfort.
Econo Mode
This mode limits the maximum power consumed by the system preventing the tripping of your circuit breaker should you have other household appliances operating simultaneously with your heat pump.
Wide Operating Range
Daikin's floor standing units are robust in design and feature an intelligent defrost system. So even when the mercury drops as low as —10°C, your home still stays comfortable in winter.
Standby Power Function
When the system is not in use, power supply to the outdoor unit is turned off and the indoor unit switches to standby mode.
Hot Start
Prior to heating, the indoor unit warms to a pre-set temperature before the fan switches on, ensuring only warm air is discharged and eliminating cold draughts.
Advanced Purification
Each model is fitted with a titanium apatite deodorising air purification filter that traps microscopic particles, decomposes odours and even deactivates bacteria.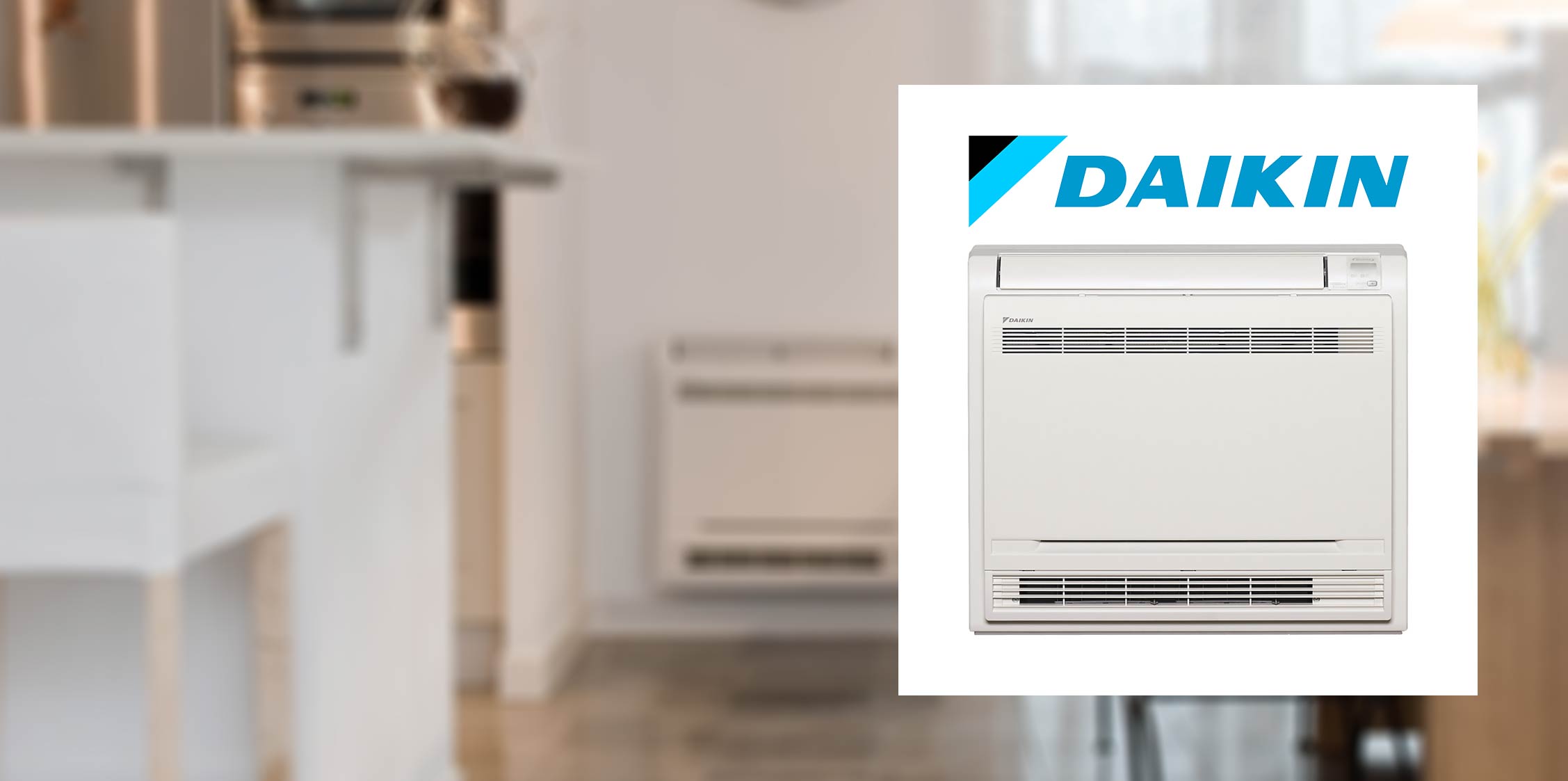 Call us today to book a quote to assess your home